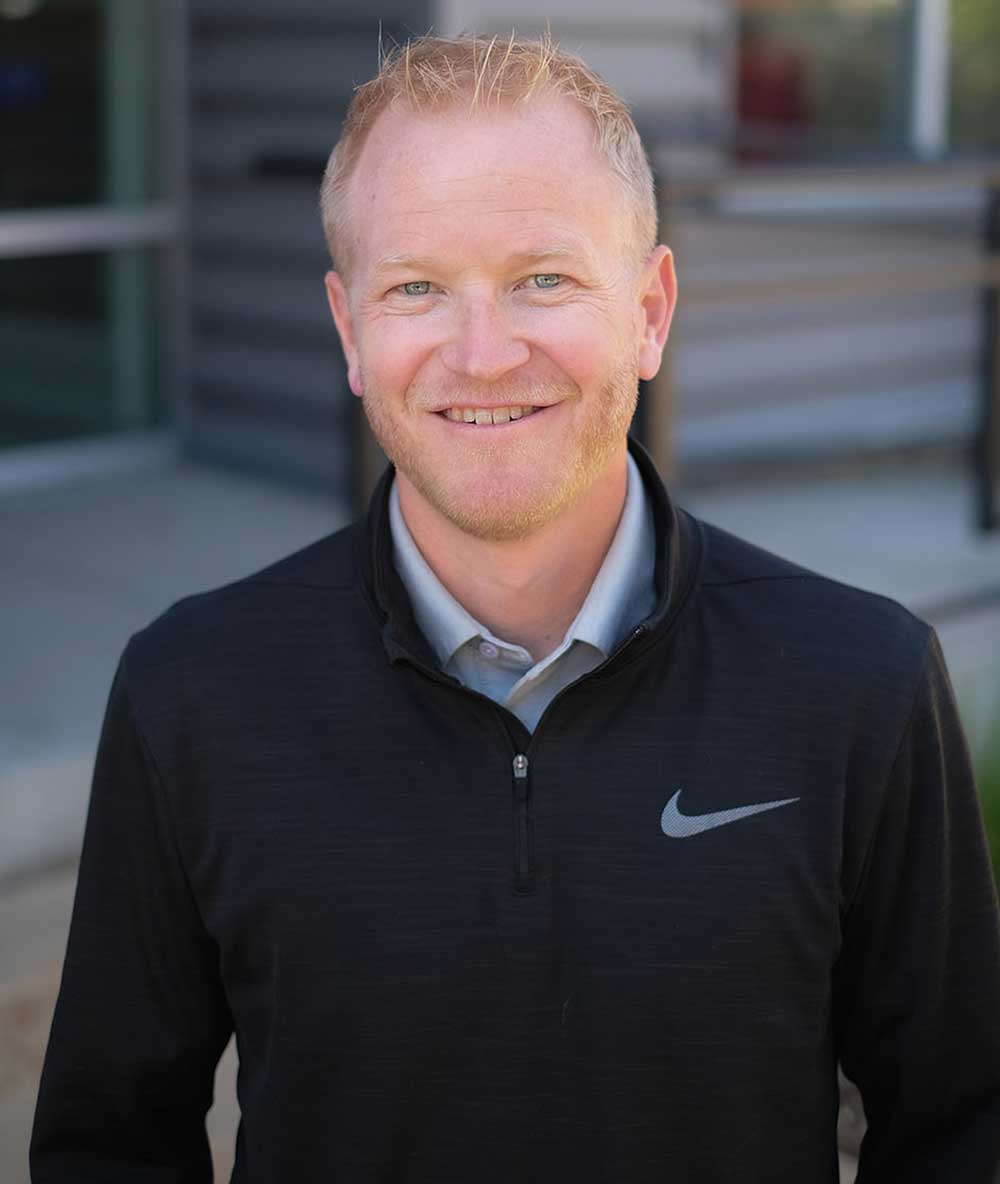 Brad Schoenthaler, PT, MS, OCS
Owner, Physical Therapist
855-437-6444 ext. 701
Brad@sportsrehabconsulting.com
Instagram: @sportsrehabconsulting
Denver, CO
As the owner of Sports Rehab Consulting, Brad has been a practicing physio for over 15 years. He earned his undergraduate degree in Sport Science from the University of Kansas and proceeded to graduate with his Master's Degree in Physical Therapy from the University of Kansas Medical Center in 2005. He is recognized as a board certified Orthopedic Certified Specialist (OCS) through the American Physical Therapy Association (APTA).
Utilizing the Selective Functional Movement Assessment (SFMA) model and the ConnectTherapy assessment/treatment framework developed by Dr. Linda-Joy Lee, Brad specializes in treating orthopedic injuries and sports specific rehabilitation with a very comprehensive approach to correcting movement dysfunction. He has an extensive history of working with patients and athletes ranging from adolescence age to the professional level. While he has treated patients with a wide variety of pathologies, he has considerable experience treating upper and lower extremity post surgical cases, including significant time working with arthroscopic and open hip procedures. He has collaborated with local orthopedic physicians to create post-operative rehabilitation protocols for arthroscopic labral repair/reconstructions and for periacetabular osteotomy (PAO) surgeries. He has also co-presented a peer talk in coordination with Dr. Brian White reviewing "Current Concepts for Hip Scopes and Labral Repairs/Reconstructions"
Brad's passion in the physical therapy field is treating the "whole" individual in a comprehensive manner that utilizes his biomechanics background to analyze how multiple moving segments combined with the integration of individual body systems, especially the nervous system, contribute to the overall health of the athlete. Looking at the body as a high demanding, complex machine allows him to treat the entire body as a whole unit, versus treating the "affected" segment only. Brad's goal is to not only to relieve pain and restore normal body function, but to enhance the athlete's performance by optimizing their body's ability to handle the stresses incurred during their sport. Only when the body is working at its most efficient state, is it able to achieve peak performance.
After a ten-year career as a professional basketball player, my history of injuries was long and complicated. But Brad wasn't intimidated and quickly had me on a path to more mobility, less pain, and great deal of optimism about my body's future! He provides quality care that is difficult to find and since I live in Los Angeles, I've made a number of trips to Denver to see Brad as well as having him come to California
Paul Shirley
Retired NBA/professional basketball player
I could not be more thankful that hip surgery at the Steadman Clinic led me to Brad Schoenthaler. From Day 1 out of surgery and through the two years that followed, Brad was in the training room, in my living room, or on Facetime helping regain everything I had lost from injury. He is nothing short of an expert in his field, the consummate professional and the friend when your head is getting the best of you. Brad was an integral part of my rehab team and I highly recommend him to anyone looking for a skilled physiotherapist
Tim Lincecum
Former MLB pitcher
I first met Brad and his staff a few years ago. I'm a personal trainer and at the time I was looking for a physical therapist to refer my clients to. I was also recovering from knee surgery during this time. I decided to give Brad a shot to see what he could do for myself and to gauge whether I would want to send clients to his clinic. I've seen dozens of physical therapists for injuries and rehab throughout my life (even from the NFL). To keep things brief, Brad and his staff are by far the best physical therapists I've worked with for myself and for my clients. They are constantly learning the latest techniques and treatments to give their patients the best care so they do what they love pain free. Simply, the best!
Aaron Fountain
Denver personal trainer
Brad Schoenthaler and Sports Rehab Consulting have been instrumental in my family's orthopedic health and wellness. After rehabbing me after hip surgery, and my husband after shoulder surgery, I knew there was no one else I would trust with my son. My son is a quarterback, and a baseball pitcher. He was having vascular issues in his throwing arm that led him to an emergent vascular procedure. His diagnosis was "Thoracic Outlet Syndrome" with the recommendation to remove a rib or surgically cut muscles in his chest. Brad went to an ultrasound visit with us, and was able to develop a plan to avoid surgery. Brad worked with my son on strengthening, whole body balancing, and hip stability. My son did not have to have surgery, and today is looking forward to pitching at the collegiate level this fall. He is stronger, more balanced, and has increased his pitching velocity into the high 80's. Thank you Sports Rehab consulting!
Kacey Craig
David Craig
After suffering for years with hip pain and stiffness--after skiing I could not tie my shoes for a week--I spent $$$$ on an MRI, X-rays, and specialists. Ultimately, I was diagnosed with hip impingements on both sides and recommended for surgery. Thankfully, I was referred to Brad and Sports Rehab Consulting as a last-ditch effort to avoid surgery. Within a few sessions, Brad diagnosed systemic imbalances and tensions years in the making. I felt better almost immediately. After putting in some work over the course of 6-8 months, I am now pain free and can run, bike, and ski without issue. Going to SRC has had a huge effect on my ability to do the things I love and it saved me from going under the knife. If there is any doubt, go to SRC
Peter Sauer
Denver Patient
I have known Brad and Ron for more than five years now and I used to practice as a hip preservation surgeon in Denver. Brad and Ron were my go to physical therapists for hip rehab for post-operative and conservative hip pathology care in the greater Denver area. My patients always commented about their outstanding level of knowledge and professionalism. The best part for me as a surgeon was knowing that I was able to trust that, under their care, my patients would achieve the best possible results.
Dr. Eduardo Novais
Orthopedic Surgeon
Boston Children's Hospital
Assistant Professor at Harvard Medical School